Support NRA Shooting Illustrated
DONATE
Centurion UC-9 Carbine
Granted, it has a longer barrel and it's a semi-auto, but think of Century International Arms' UC-9 Carbine as an Uzi without all the paperwork and the hefty price tag. That's because this 9 mm carbine has a 16-inch barrel and fires from a closed bolt. It weighs 9 pounds and retails for $899.95. Best of all, the UC-9 ships with five 32-round magazines.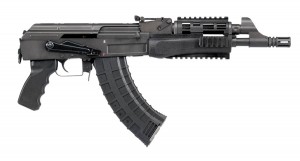 Centurion 39 AK Pistol
With a machined receiver and all parts made in the United States, the Century International Arms Centurion 39 AK Pistol follows in the footsteps of last year's Sporter Rifle—only it has a shorter barrel (11.38 inches) and no buttstock. Though chambered for the same 7.62x39 mm round as its big brother, the pistol tips the scales at just 5.4 pounds—a good deal lighter than a Kalashnikov rifle. The Centurion 39 AK Pistol is also a great starting point for a unique, AK-based SBR project. It retails for $769.
Shooters Arms Elite Pistol
This 1911 from Century is loaded with great features and is a fine choice for home defense. Extended safety and slide-stop levers, a beavertail grip safety with a memory bump and much more make it an interesting pistol that promises to be a superior value in a home-defense handgun. Here's some more info and a look at the Elite Pistol from Century:
AK-74 Bullpup Sporter
If you want a gun chambered in 5.45x39 mm, you want an AK-74, but don't settle for a plain-Jane model when Century International Arms has an affordable bullpup version for close-quarters combat. A railed upper handguard allows for mounting a red-dot or holographic sight, while a polymer 30-round magazine feeds close to your face on this radical looking take on the AK. You've simply got to see it to appreciate its awesomeness:
Centurion Home Security Shotgun
Century's initial foray into the home-defense shotgun market has a host of innovative features designed to make the 12-gauge easy to shoot in a stressful situation. This pump gun handles up to 3-inch shells and has an elongated fore-end to protect the hands during charging. There's much more to tell about this shotgun, but we'll let the expert fill you in: