Thanks to choke tubes, an assortment of shell lengths and a variety of shot sizes (not to mention slugs), the 12-gauge shotgun is likely the most versatile firearm on the planet. And, with the recent advent of modular shotgun designs, that's never been truer.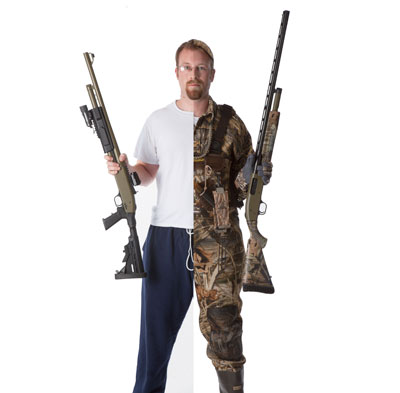 Take, for instance, the innovative Mossberg Flex System for the company's Model 500 and 590 pump-action shotguns. The design allows the user to swap fore-ends, stocks, barrels and recoil pads—without tools—to completely customize the shotgun for both fit and desired purpose. Want to defend your home and do a little hunting on the same day with the same shotgun? That's one of the primary ideas behind the Flex System, and I wanted to see if it worked as advertised.
Hunting or Home Defense
If you're an avid reader of this magazine, we can assume your primary interest is in the Flex System's tactical applications, and there are plenty specific to it. But first let's discuss how this gun is suited to anyone who also has a passing interest in hunting or shooting clays. Perhaps you want to give wingshooting a try, but not enough to justify the price of a second shotgun. For just an extra $60 over the MSRP of a standard 500 or 590 shotgun, a Flex System gun can be tailored to both roles.
Last October, I awoke on one of my favorite holidays of the year: opening day of pheasant season. The Mossberg 500 Flex System shotgun sent for testing was in a tactical configuration, but it was time to go hunting. So, first I removed the adjustable, six-position tactical stock and replaced it with a standard, camouflage synthetic model. Next I removed the railed, tactical fore-end, a fixed cylinder choke, and plugged the five-shot magazine to comply with hunting regulations. All that was left to do was slide a 28-inch ported barrel into place and attach a standard, camo synthetic fore-end. Within minutes, I completely transformed the shotgun in both appearance and handling characteristics.
I'd like to tell you about all the pheasants I shot later that day, but I flushed just one bird—and missed. More importantly, however, I was able to quickly reconfigure the shotgun for personal defense upon returning home.
Plenty of Accessories
"One of the things we looked at while designing this gun is the popularity of the AR-15 rifle platform," says Linda Powell, Mossberg's director of public relations. "Part of the reason AR-15s are so attractive to people is because you can make your gun unique to you without a whole lot of additional costs. With the Flex System, you can accessorize a 500 or 590 shotgun without significant extra investment."
Similar to an AR-15, practically any component of a Flex gun except the guts of the receiver can be swapped out to meet your liking. Most available accessories retail for less than $50. Pricier items include the adjustable, four-position hunting stock ($145-$156) and six-position tactical stock ($108). Nine different stocks are available, including a pistol grip (no buttstock, a design comparable to the Mossberg Cruiser), standard synthetic stocks in camo or black with lengths of pull of 12.5, 13.5 or 14.5 inches, a four-position adjustable comb stock reminiscent of a Monte Carlo-style design, and a six-position, M4-style adjustable stock.
Swapping stocks proved to be quick and easy thanks to a unique, half-moon-shaped locking device in the wrist. I simply pulled up on the lock, turned it 90 degrees and the stock was released. Don't worry about losing the lock—it cannot be removed. To attach a new stock, I slid its ridged, recessed wrist onto the metal notch at the back of the gun's receiver. Once I turned the lock and pushed it back into position, it sat flush with the stock and was ready to go.
Attachment and removal of most of my test stocks was completely painless. However, I did have some trouble attaching one of the camo stocks—it just didn't want to slide all the way into position, but after some effort (including tapping the nearly assembled gun's recoil pad against my living room floor) it slid right on. The problem did not recur with the stock again and was not experienced with any other accessory I attached. I would certainly rather have a stock that fits too tight than too loose.
Available fore-ends include standard 500/590 designs as well as an intriguing tactical option. The tactical fore-end has three Picatinny rails and two slots for pressure pads to operate lights or lasers. It can also accept a forward pistol grip. The fore-ends attach to an internal frame that rides along the dual action bars. Removal is accomplished by pressing forward on a recessed release button underneath the fore-end.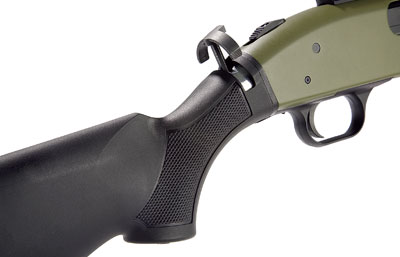 My biggest concern with the Flex System design is that the gun, especially the fore-end, would feel loose. It's a pet peeve, but if you've ever handled a pump shotgun with a wobbly fitting fore-end, you know how distracting it can be. Given that the Flex System is designed to accommodate a host of accessories, I suspected the quality of its tolerances would be sacrificed for ease of attaching new parts. Fortunately, that's not the case. Fit and finish on my test gun proved surprisingly good, which gives me confidence in the ability of Flex guns to handle abuse and hold up over time.
"That's probably the most common comment we've gotten, because we recognized that area of potential weakness and put a lot of thought into the strength of these guns," Powell says. "Particular attention went into the materials used in the construction of the fore-end and stock attachment points. Our engineers tried aluminum, polymer, everything…but eventually they determined that zinc on zinc worked best. Zinc allowed us toincorporate tighter tolerances, and it wasn't at all affected by the wear of repeatedly attaching and removing accessories."
In addition to their snug fit, the locking devices on the stock and fore-end do not alter the lines or feel of these guns from a traditional 500/590. From a few yards away, they're practically unnoticeable.
Military Origins
The excellent strength and overall fit of the Flex guns probably has a lot to do with its early history. Mossberg began quietly working on a modular design in 2005.
"Various ideas were tossed around for it back then," Powell says. "The biggest question was whether there was a consumer application for it, but the consensus at the time was the market just wasn't ready for a modular shotgun."
The idea was shelved for a couple years, but then the U.S. military expressed an interest in a modular-style shotgun that could be adjusted for the size of the soldier using it and tailored for a variety of intended applications. Since Mossberg was already well along on just such a project, it threw its hat in the ring. The gun would have to be right, and soon an early version of the Flex System was unveiled. Unfortunately, the military did not bite.
"Later, in 2009, the project was again resurrected," says Powell. "We had already invested time and money into designing a very good, unique system with lots of applications, and based on the current civilian firearms market it was a great time to introduce the Flex System. Since its introduction this year, military and law enforcement are also reconsidering it."
Adjustability
Based on the composition of the modern military, it's little wonder why Uncle Sam would have an interest in a modular shotgun design. The Flex System allows the shotgun to be tailored to the stature of practically any shooter. This has civilian applications as well. Want to share a home-defense shotgun with your spouse? The Flex is worth considering. No, it wouldn't be advisable to adjust the gun in the middle of an emergency. However, say, for example, you leave town on a business trip—simply adjust the gun to fit your spouse, and you'll have peace of mind during your travels.
Obviously the Flex-compatible, six-position M4-style stock is very adjustable, but the three different sizes of standard stocks have nearly as broad a reach. How so? The stocks accept recoil pads of three different thicknesses (.75, 1.25 and 1.5 inches). I've tested shotguns designed to swap recoil pads before, but not one quite this user-friendly. All you do is press either of two buttons below the heel of the stock, and the recoil pad pops right out. A new one can then be snapped into place by inserting its polymer pegs into a chassis within the stock. It also seems a more durable design compared to those in which pads are forcefully tugged in and out of place.
The adjustability this affords is significant. I'm 6 foot 3 inches, and the 14.25-inch length of pull stock paired with the 1.5-inch recoil pad was too long for me. On the other hand, the 12.5-inch length of pull stock coupled with a .75 inch recoil pad was too short for my wife. That's a pretty wide spectrum. This adjustability will also come in handy for those who intend to hunt with their Flex shotguns. If you've never used the same gun to hunt doves in a T-shirt in September and January mallards in a heavy jacket, you'll find your length of pull changes dramatically.
Barrel Options
Barrels can easily be changed on most every modern shotgun, and the Flex series guns are no exception. Yet, it's worth noting that Mossberg offers several options for these guns—including two tactical barrels with fixed-cylinder chokes: a 20-inch barrel with a bead or ghost-ring sight, and an 18.5-inch barrel with a white dot sight and breacher tool. I doubt I'll ever have to breach anything, but hey, it's a nice touch. Longer hunting barrels are available in 24, 26 or 28 inches with porting to reduce recoil. The hunting and "All Purpose" barrels accept screw-in Accu-Chokes.
As with the Flex-series receivers, a variety of metallic finishes are available for the barrels, including OD green, matte black and a rust-resistant silver version Mossberg calls Marinecote.
Hunting Gun or Tactical Gun?
"Right away we realized the Flex System had a lot of potential for the tactical and home-defense markets," Powell says. "We knew those circles would embrace a customizable shotgun platform. It was the hunters we weren't as certain about, but by the time we brought the design to market, we felt we had enough accessories to draw equal interest from both sets of people."
Based on the current state of the firearms market, it made sense for Mossberg's bottom line to focus initially on the tactical applications of the Flex System. And in this age of renewed interest in self-reliance and personal defense, there is bound to be crossover from the hunting community into the tactical arena.
Mossberg will soon capitalize even further on this phenomenon with combo packages. An initial introduction, the "Turkey Defense Combo," is geared toward—you guessed it—turkey hunting and home defense. Two stocks, two fore-ends and two barrels will be included with the OD Green receiver. Look for it in big-box stores this spring.
But will crossover occur in the other direction as well? Are there those of a tactical bent who'd enjoy a shotgun they can also use for a round of sporting clays or even a duck hunt in harsh conditions?
"We've heard from plenty of people who own shotguns for tactical use who would love an opportunity for some field activity, but don't want to buy a whole new shotgun platform," Powell says.
If you're one of them, the Flex System may be just the ticket.