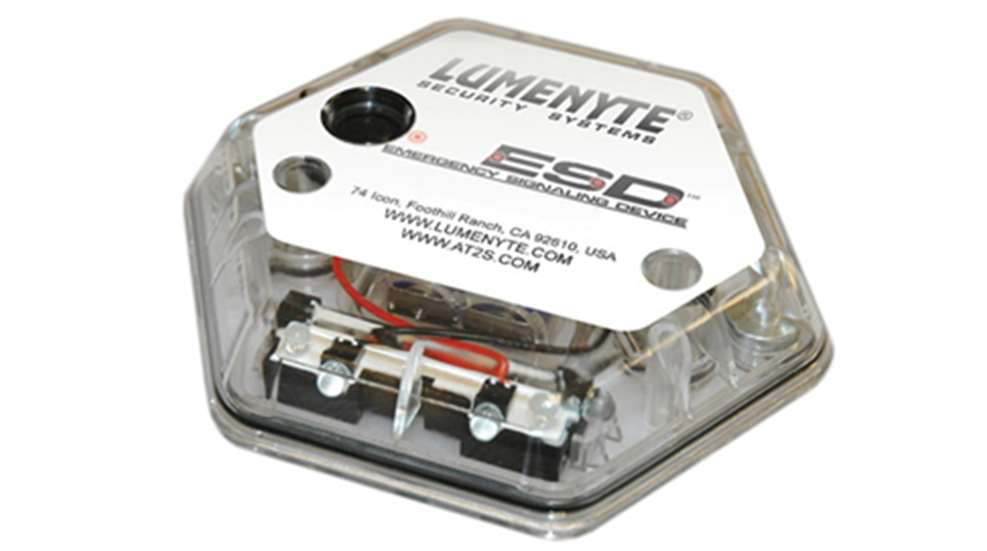 What isn't a good mix is a Good Samaritan looking through the missing passenger-side window of a turtled car (leaking a lot of gas) you're doing first aid in and declaring "I called 911 and am putting out flares." Can you say flambé?
It was impossible to keep that 20-year-old memory from rushing back when I was provided a Lumenyte Emergency Signaling Device (ESD) to test recently. Everything turned out fine, although thinking about the incident still makes things pucker and the hairs on the back of my neck stand at attention.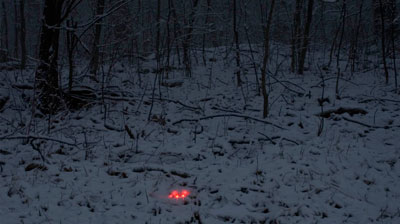 The ESD eloquently remedies that potentially explosive gas-vapor problem, yet it still effectively signals oncoming traffic that an accident is ahead. No, it doesn't radiate the kind of eyeball-scorching red glare that makes flares so effective. It also doesn't melt into the pavement, need to be reinforced every 15 minutes, start fires, asphyxiate innocent passers by, roll around and hide in the trunk or burn inexperienced users.
Just how effective are the six flashing LEDs? I tossed the waterproof unit into the woods behind my house at 3 in the afternoon as a winter storm began its approach. At 30 yards on the overcast day, it was visible, but diminished greatly with distance. Once nightfall came and the snow started to fall, it was visible for at least 100 yards. It was foggy, we received slightly more than an inch of snow through the night and placing it in the forest was a little unfair. Lumenyte claims it's visible for up to a mile.
My first thought was the pair of AA batteries would surrender to the cold long before the unit suffered from condensation or water leaks. I was wrong. LED units have a habit of getting pretty warm (which is why your tactical flashlight has a warning on the bezel), so by the next morning I had incorrectly assumed it was generating enough warmth to guarantee their survival. There may be some basis to my theory, but if that's the case, not enough heat was escaping the thick polymer housing to even melt the snow.
Are there any self-defense applications? Although Lumenyte's press materials address law enforcement, rescue and security applications, they're pretty quiet on the homeowner front.
Undoubtedly, the ESD can aid emergency responders. Years ago I did an article about a retirement community in Southern Arizona where the cookie-cutter, retirement condos were so identical (right down to the color, mailbox and cactii landscaping due to homeowner association regulations), that authorities responding to urgent calls had to slowly and methodically spotlight tiny numbers on doors. The pace was dangerously slow, and ultimately systems were installed to allow the front-porch light to be used in a flashing mode. Dial 911, turn on the front-porch strobe and wait for help. With the ESD you've got a similar system.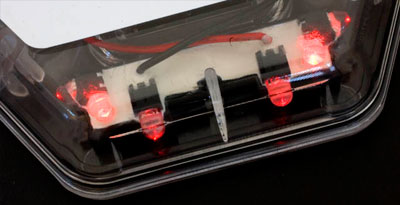 Think about you and the family in the safe room, talking to 911 while multiple bad guys are prowling the house at will. The ESD has six LEDs. Two point directly forward, two skyward and the others are directed left and right. So once you're told law enforcement is on the scene, you can point it directly out the window to mark your location for responders (instead of hoping they figure out exactly where the master bedroom is), without flooding the safe room with red light the perpetrators might find a little too interesting. Why not just point your flashlight out the window? You could, but I'd feel a lot better putting the unit on the windowsill and then concentrating my lumens and firepower at the door until help arrived.
Let your imagination run wild with the applications. With an MSRP of less than $20, it's not often you can have this kind of fun.
When I took the unit home for testing, everything in my briefcase that had steel was stuck to it. Yes, it has a pair of magnets strong enough for it to adhere to my fridge (despite being opened and closed for adult beverages multiple times during this weekend of rigorious testing) and car. Its hexagonal shape measures 4.5 inches (5 inches from point to point) wide and it stands 1 inch tall. The entire unit is sealed against the elements and to replace the batteries, simply remove a screw (the battery compartment is independtly sealed, too).
How tough is the ESD? Take a look the video of one being run over by a tank.
What about inadvertent activation and battery drain? They thought of that, too. The unit is activated by a pressure switch that is recessed deeply into the housing.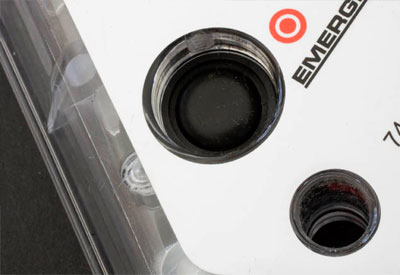 The math is pretty simple, too. Right now you can pick up flares for roughly $2 each. The ESD has an MSRP of less than $20. Yes, it runs on a pair of AA batteries, but according to the company they'll last for 400 hours of continuous use. I can't refute or confirm that claim, but the unit I tested ran for 24 hours in some bad weather....that would have required at least 96 of the 15-minute flares and without some creating lacing, multiple trips into the cold.
If you can't tell, I think this is a pretty neat unit. Is it the ideal remedy for every situation? Nothing is. But for the price, its rare you can find something to torture the neighbors with for 24 hours, survive a tank assault, hang onto the fridge door on Superbowl Sunday and still have practical uses you may need someday.
And if you happen to stop to help at an accident, I know for a fact that seeing these deployed around you, instead of flares, will be a lot more settling. There's nothing worse than flashbacks of last year's flaming BBQ during the big game, and take my word for it, scars like that take a while to heal (my eyebrows are growing back nicely, thank you).