by
Shooting Illustrated Staff
posted on October 20, 2020
Support NRA Shooting Illustrated
DONATE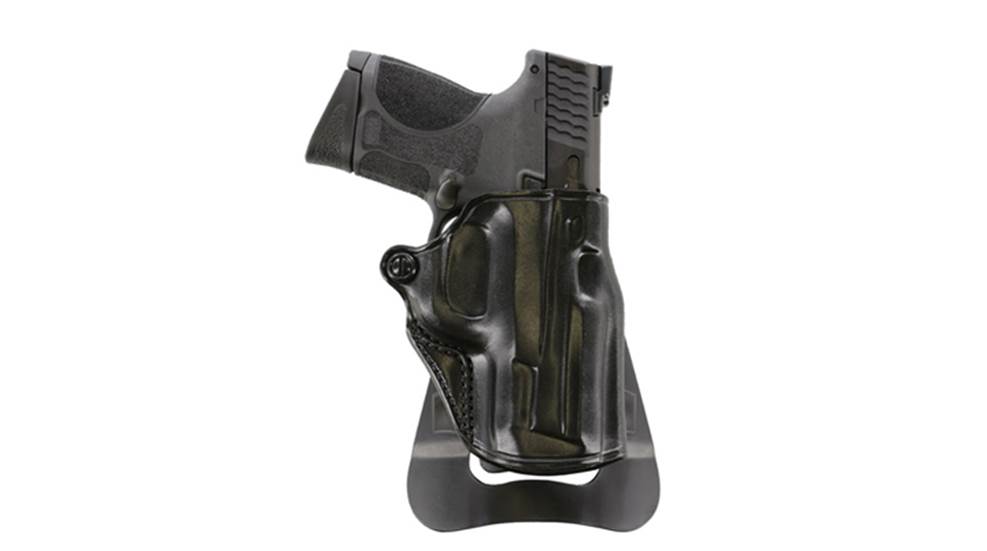 Galco introduced the Speed Master 2.0 for the popular 3.6-inch Smith & Wesson M&P Compact/Subcompact pistols. Holsters for defensive handguns need to be built for speed, and Galco designed the Speed Master 2.0 for exactly that purpose. The open-top design of the holster provides a full firing grip, and the adjustable tension creates a holster that's as fast as it is versatile.
Speed, however, isn't the only reason for choosing a concealment holster. The highly versatile Speed Master 2.0 also has a convenient on/off ability when used as a paddle holster. Added versatility comes from the included interchangeable belt slot attachment, which enables the holster to be configured as a solid and stable belt holster. The paddle and belt slot attachments are quickly and easily swapped out using only a flathead screwdriver. 
There is no need to compromise the speed of your draw thanks to an adjustable tension unit built into the Speed Master 2.0. This allows the user to set the tension as tight or as loose as they prefer. The Speed Master 2.0 rides high and close to the body, offering good concealment of handguns in all sizes, an important role for any concealed carry holster.
The holster is constructed of premium saddle leather and fits belts up to 1¾ inches across. It is available in tan or black in righthand draw only for the S&W M&P Compact/Subcompact series (original and 2.0 with 3.6-inch barrel).
Speed Master 2.0 Features
Premium steerhide construction

Adjustable tension unit
Slight butt-forward or neutral cant (varies with gun)
Includes interchangeable belt slot and paddle attachments
Belt slot is adjustable for belt width and ride height
Detailed hand molding for excellent retention
Fits belts up to 1 ¾ inches

The Speedmaster 2.0 for the Smith & Wesson M&P Compact/Subcompact has an MSRP of $86, and more information on this holster and other products from Galco is available at galcogunleather.com.