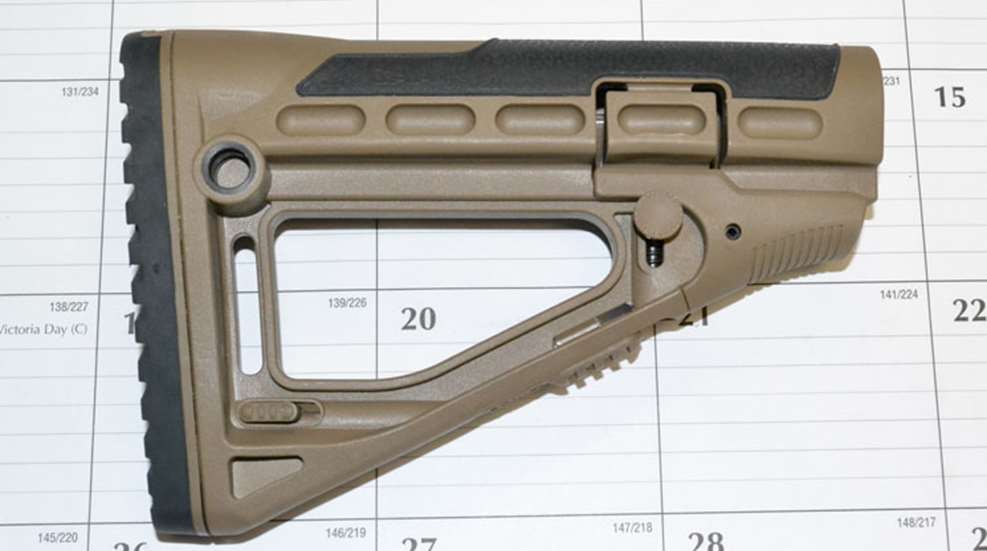 We mentioned the CAA skeletonized buttstock previously, and indicated that other color schemes were available. The Flat Dark Earth version has the same features as the previous version but is designed to assimilate with the latest trends in furniture colorization.
In addition, the Command Arms' skeletonized buttstock takes the wiggle out by means of a physical locking mechanism actuated by the support hand. By sliding the lock forward, the pin that holds the stock in place is physically captured in place, significantly reducing the wobble of the stock in any position.
Other notable features include a rubberized section of the top of the stock where the cheek weld is acquired, leading to a tighter fit when in place. Three sling attachment points are provided: two QD sling mount points are placed on either side of the rear of the buttstock, and one web slot is provided at the back as well. The rear buttpad can be removed from the stock, although the rails that guide it in place are still present. One last excellent little touch: Two oversize buttons for holding the adjustment pin out when removing or attaching the stock make it much easier to get it on or off the extension tube.
MSRP: $80.50. Also available in black and OD Green.