I have a selective-fire Uzi and you don't (probably). I say this not to brag—well, maybe a little—but rather to point out the difficulty obtaining a true model of Uziel Gal's legendary submachine gun. First, you need about $7,500 these days. Then, you need to live in a state where machine gun ownership is legal. At that point, you better hope the chief law enforcement officer in your locality is keen on guns, because he or she has to sign off on your ATF Form 4. You'll need passport photos and fingerprints taken and the form itself completed without any errors, no matter how insignificant. Then you get to wait four months for BATFE to approve the transfer. If you're lucky, you'll have your Uzi in about half the time it would take to gestate a human child.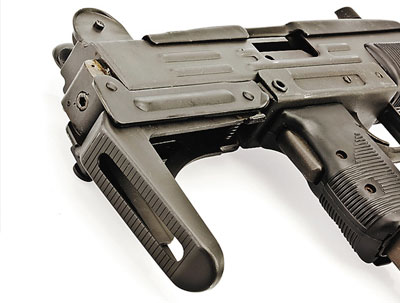 For those looking for a simpler, and—just as important—less expensive means of obtaining a fine, semi-automatic facsimile of an Uzi, Century International Arms has a good solution. The company's Centurion UC-9 Carbine is virtually indistinguishable from a real Uzi at first glance, save the elongated barrel required to meet the 16-inch minimum for a readily transferable rifle. Best of all, you'll save about 90 percent of the cost, as this carbine retails for less than a grand.
For detailed photos of the UC-9, click here.
The UC-9 has the iconic under-folding stock, grip safety, winged cocking knob, knurled barrel-retaining nut, stamped receiver and polymer handguard, all of which help provide its Uzi-esque looks. The sights are similar to, but not an exact replica of, IMI's Model A variants, with the front sight being adjustable for windage and elevation and the rear sight consisting of an L-shaped dual aperture marked for 100 and 200 yards, respectively.
The exterior is where the similarities between the UC-9 and an Uzi end, however, as modifications are needed to ensure the UC-9 cannot fire or be made to fire on fully automatic. For one thing, the UC-9's bolt is much, much lighter than an Uzi bolt. This ensures the added weight resulting from an extra 6 inches of barrel is not overwhelming. Moreover, the heavy bolt on a selective-fire model helps maintain controllability and reliability during fully automatic fire, elements not required in a semi-automatic firearm.
In terms of operation, the UC-9 is also different from an Uzi in that the former fires from a closed bolt while the submachine gun fires from an open bolt. An open-bolt semi-auto is about as useful as a fore-grip on a muzzleloader, so dispensing with this system was a no-brainer. In addition to the recoil spring attached to the bolt assembly, the UC-9 has a striker assembly with an additional recoil spring. This makes it more complicated to field-strip than an Uzi, but is a good solution to ensure it cannot go full auto and to allow it to fire from a closed bolt.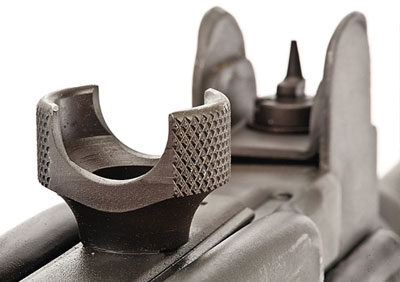 Other than the internals, the UC-9 shoots like an Uzi. Anyone familiar with Israel's most famous export will have no trouble operating the UC-9, as it mimics the Uzi's intuitive form to a "T."
The safety selector switch is located above the vertical grip on the gun's left side and can be actuated with the thumb of the strong hand without sacrificing a shooting grip.
I have two complaints regarding the carbine. The first goes back to the field stripping and reassembly procedures. It might be because I'm used to the rugged simplicity of the selective-fire Uzi's internal parts, but I found the UC-9 overly difficult to reassemble after cleaning. The addition of the striker assembly might have been necessary to ensure the gun remains semi-automatic, but it adds parts to a gun specifically designed to be ultra-easy for a conscript to take down. Unavoidable, perhaps, but still not fun. Second, the folding stock's front section utilizes a locking button that requires more force than it should to depress in order to fold the stock. The button itself seemed a tad loose, but it held the stock in the extended position without issue.
I tested the UC-9 with a variety of 9 mm self-defense and FMJ loads, but most shooters will likely stick with ball ammo. Certainly, it would make a fine self-defense pistol-caliber carbine, and the folding stock makes it quite nimble for a gun with a 16-inch barrel, but it is still more cumbersome than a handgun and less versatile than a 12-gauge shotgun for the home-security role. True to its Uzi inspiration, the UC-9 was extremely reliable, with no failures to feed or fire in testing.
From the barrel-retaining nut to the folding stock, the Centurion UC-9 Carbine is as close as most of you—but not me (now I am bragging)—will get to owning a real Uzi. It might only fire a single bullet at a time, but it does so with above-average accuracy while resembling one of the most iconic firearms ever built. Beyond that, you'll have about $6,750 to spend on a bunch of other guns, while I wait several years before my better half allows me to so much as look at another firearm. So do yourself a favor and stick with the UC-9. You'll be able to shoot it tomorrow and you will have a versatile little carbine that's a pleasure to shoot.
Manufacturer: Century International Arms; (561) 265-4530
Action Type: Straight-blowback-operated, semi-automatic
Caliber: 9 mm
Capacity: 32 rounds
Receiver: Stamped-steel
Barrel Length: 16 inches
Rifling: 6 grooves; 1:10-inch RH twist
Trigger Pull Weight: 7 pounds, 5 ounces
Sights: Front post adjustable for windage and elevation; dual-aperture rear
Stock: Two-piece, folding
Length: 24 inches (folded), 31.5 inches (extended)
Weight: 9 pounds
Accessories: Five 32-round magazines, manual
MSRP: $749.87