There are few truths in life, but I know this one is rock solid: "AR-15's are too heavy." The guns are usually 8 or 9 pounds out of the box. Even the most basic, stripped-down M4-style carbines come in heavier than the 7-pound mark. By the time you get a sighting system installed they are close to 10 pounds. The AR-15 is a simple gun and it doesn't have to be heavy, so why is it

Because that's how it's always been done? Sorry, I have never accepted that stale and flawed argument on any topic. 

I was talking about this with Larry Weeks before he retired as Brownells' PR guru, and he said, "Well, then why don't you build a lighter rifle?" So I did.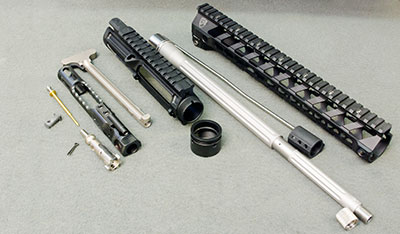 The resulting 32 1⁄8-inch gun weighs in at 4 pounds, 15 ounces and even with an Aimpoint Micro T-2 mounted, it's only 5 pounds, 5 ounces. That's close to half the weight of a lot of my other AR-15s. 

It really was quite simple. I didn't do any machining to remove weight or use any super-exotic parts. I just ordered existing components and built the gun by bolting those parts together. It was an easy do-it-yourself project that resulted in a rifle that is, as one buddy said, "Just about the coolest gun on the planet." 

My goal was a reliable, rugged gun that I could depend on for self-defense and hunting. I wanted metal receivers and an operating system that was safe and trustworthy. I avoided gimmicks and some of the foolishness I found with other lightweight-rifle builds. Of course, I still wanted a working rifle—not some fragile and frail aberration built for the single-minded purpose of shedding weight. In short, I wanted a gun that could survive and operate in the real world without compromise, yet one that wouldn't weigh me down. 

The foundations of all ARs are their receivers. This is also an area where some weight reduction can be achieved. I chose the Lightweight Billet Receiver Set from Battle Arms Development (BAD). These receivers are machined from 7075-T6 Aircraft Grade Aluminum and are designed to provide full functionality while reducing weight. The upper receiver eliminates the forward assist, something I frankly see little use for in most non-military situations anyway. It maintains a full-length rail on top, yet it weighs just 6.31 ounces. The 6.84-ounce lower receiver has a deeply flared magazine well that is beveled for easier reloads. There is also an integrated trigger guard. Both receivers have a hard-anodized, flat-black finish and are thinned, dished and sculpted in non-critical areas to reduce weight.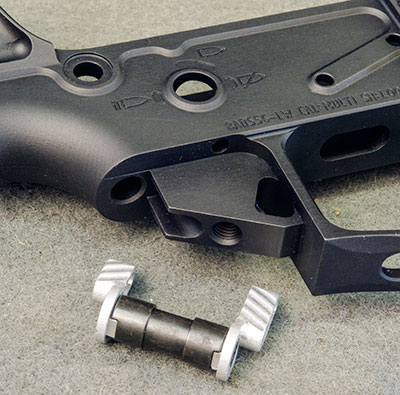 As I have encountered recently with many of the best lower receivers, the bolt catch and rear takedown-pin detent springs are held in with setscrews. This makes installation easier and, with the detent for the takedown pin, eliminates the need for a plate to cover the spring hole. I did have to shorten the spring for the rear takedown-pin detent a little to make it work correctly, because the setscrew eats some of the space available, resulting in too much spring tension on the takedown pin. Cutting about an eighth of an inch off the spring solved the problem and was a very simple modification.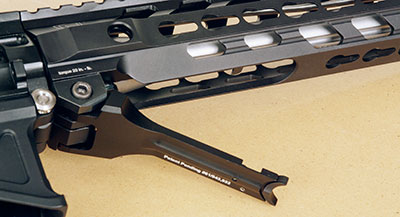 The BAD takedown pins are titanium and are available in silver or black. I picked silver to give a little contrast to the black-gun look. The safety is a prototype of BAD's short-throw combat safety, but in titanium. Levers for this ambidextrous safety selector were "in the white." I had planned to Duracoat them, but decided to leave them unfinished, again to give a contrasting highlight to the look of the gun. BAD has a lightweight, enhanced magazine-release button which is offered in several colors, but I picked silver to stick with the theme (though I must admit I was tempted by the red or blue versions). I am thinking of building a set of 3-gun competition firearms—rifle, pistol and shotgun—in red, white and blue, so I am pretty sure the colorful mag-release buttons will find a home.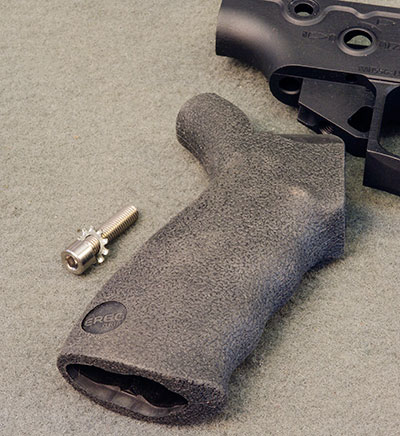 I installed an original-style Ergo grip with an aggressive texture. I like this smaller grip as it fits my wide and stubby hands well and I have them on a bunch of guns, plus the smaller size helped to keep weight down. To hold the grip in place, I used a lightweight titanium screw from BAD—every little fraction of an ounce you can save helps. 

The rest of the lower-receiver parts came from a Brownells lower parts kit. I have used several of these kits to build guns in the past few years, and found all parts well made and functional.

A big source of gun weight is the barrel. Again, I went to BAD for this. The company's 16-inch Ultramatch Lightrigid fluted barrel is made from 416R stainless steel. It has a .223 Wylde chamber and 6-groove, button rifling with a 1:8-inch twist rate. This petite barrel takes a .625-inch gas block and a mid-length gas tube. Best of all, it only weighs 24.6 ounces. I didn't want the extra length or the added weight of a flash hider or muzzle brake, so I added a knurled Yankee Hill Machine thread protector to cover the threads on the muzzle. The gas block is a BAD prototype made of titanium that will be available soon. I didn't weigh it, but I think a turkey feather is heavier.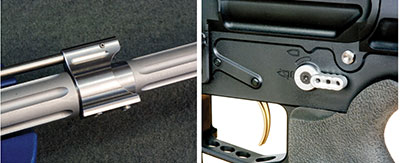 For the bolt carrier, I went with a VooDoo Innovations LifeCoated Low Mass model. I fitted it with a JP Enterprises Enhanced Bolt Assembly and a titanium firing pin. The charging handle is a WMD Guns NIBX model. It has a nickel-boron coating which, in addition to aiding slick operation, has a matte silver finish that blends with the contrasting highlights of this gun.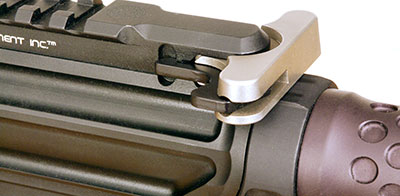 While the upper has a provision for a dust cover, I didn't install one. It's another unnecessary addition most shooters seldom make use of. I don't plan to use this rifle in battle in the muddy jungles of Southeast Asia or in the sand of the Middle East. Besides, if I ever change my mind, it's easy enough to install one. 

The trigger is Ronin Colman's wonderful AR Gold from American Trigger Corp. It breaks clean and crisp at 2 pounds, 15 ounces and has precious little room for improvement.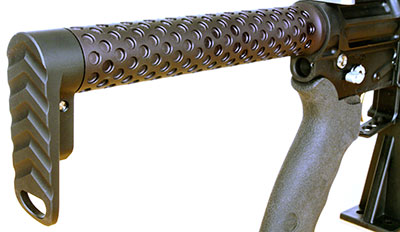 Moving rearward, the dimple-finished buffer tube is BAD's Saber Tube, fitted with a BAD Lightweight Buttstock. This is basically a foot-shaped, minimalist buttstock that clamps on the buffer tube. It's 3.5 inches long and has a provision for a push-button, quick-release sling swivel. There is also a cutout where you can attach a snap for a sling. The small footprint of the buttstock is fine, since the .223 Rem./5.56 NATO cartridge doesn't recoil particularly hard. I have shot it a bunch while wearing just a T-shirt, and found it very comfortable. That said, I will not be shooting it with my .50 Beowulf upper. 

Length-of-pull is short at 11.5 inches. I was concerned about this at first, but found it easy to adapt to when shooting. Of course, it works well with body armor or bulky winter clothing, the latter being much more common in my part of the world (Vermont). 

The buffer is a standard, Mil-Spec, carbine-length buffer, because it's what I had in the shop. I have no doubt I could drop a few ounces by shopping around for something lighter. The buffer spring is the Hilsabeck Firearms Dual Rate Buffer Spring system. This uses a short spring in the rear, which comes in two strengths. That spring mates with a metal spacer ring and a second longer spring. It runs well and is smooth, with little noise.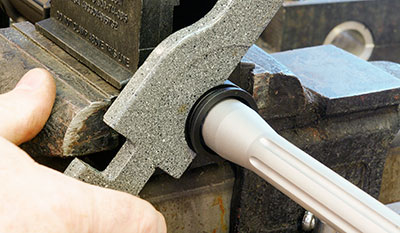 I chose the Fortis Switch 556 Rail System fore-end. This 12-inch fore-end comes with a barrel nut that requires a spanner wrench to install. My DPMS Multi-Tool wrench—a tool anybody working on ARs must have—worked fine. Once the barrel nut is installed, the fore-end slides over it and you close a lever that works a cam to tighten it in place. This is the fastest and easiest design to install I have encountered. I suppose in the interest of weight I might have saved an ounce or two by going with a short, ultra-thin, carbon-fiber fore-end, but, to paraphrase The Dude, this fore-end "really ties the gun together." Fortis' skeletonized aluminum fore-end has a full rail on top and lots of attachment sites to add rails or accessories, which I did not use in the interest of saving weight.

At the end, on both sides, there are attachment points for push-button, quick-release sling swivels, to which I fitted a Vero Tactical two-point sling. I can hang the gun in front of me, muzzle down, and snug the sling tight so it remains in place, even during active movement. With a tug on the release tab, the sling will lengthen to allow shooting from any position. Carrying most AR-15s in this style becomes uncomfortable after a very short time, but I can carry this gun all day and still not hate it. Which is kind of the point of a lightweight gun, right? 

I know I am going to take some heat for not having backup iron sights. But, with a high-quality primary optic I don't find them necessary on a civilian firearm. Until "the end of the world as we know it" actually happens, I just don't see the point. Call me a rebel, but I decided one sighting system is enough. I would rather have a simple, lightweight rifle than a bunch of co-witnessed bling I'll never use.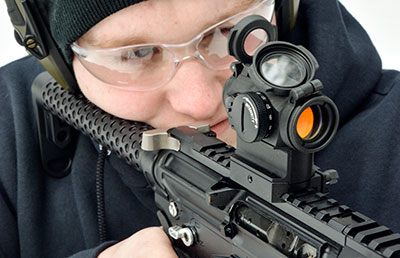 That said, when it comes to optics, only the best will do (after all, there is no backup). I installed an Aimpoint Micro T-2 with a 2-MOA dot. With the Aimpoint 39 mm spacer and LRP quick-release mount, the optical center of the sight is exactly where it should be to line up with my eye. I just keep both eyes open and float the dot on the target, the way Aimpoints are designed to be used. 

I ran the gun through its paces at the range with a shooting partner. We shot it with several different factory loads from multiple manufacturers and with bullet weights ranging from 43 to 69 grains, in 5.56 NATO and .223 Rem. I also included some handloaded 55-grain Hornady V-Max ammo using 27.0 grains of Hodgdon CFE223 with a Federal primer and a Remington case.

Even before any break-in, the gun ran like a well-tuned machine and with zero issues. At 50 yards, it stacked bullets on top of each other in one ragged hole. I am waiting for 2015's winter from hell to abate so I can access my normal shooting range, where I plan to bolt a magnified optic on top and shoot some formal groups at longer ranges. I don't expect any surprises. This is clearly a sub-MOA rifle.

I brought this rifle to my buddy Jason Seibel's gun shop. Seibel is a young, dialed-in, gun guy and when he finally stopped drooling he remarked, "What a great bug-out gun. You could put it on a sling or even in a backpack and hardly know it's there." Then he ordered the parts to build his own. In fact, several people who have handled my featherweight creation are already building their own lightened versions. 

It may weigh next to nothing, but the power of this gun is that strong.