by
posted on October 4, 2018
Support NRA Shooting Illustrated
DONATE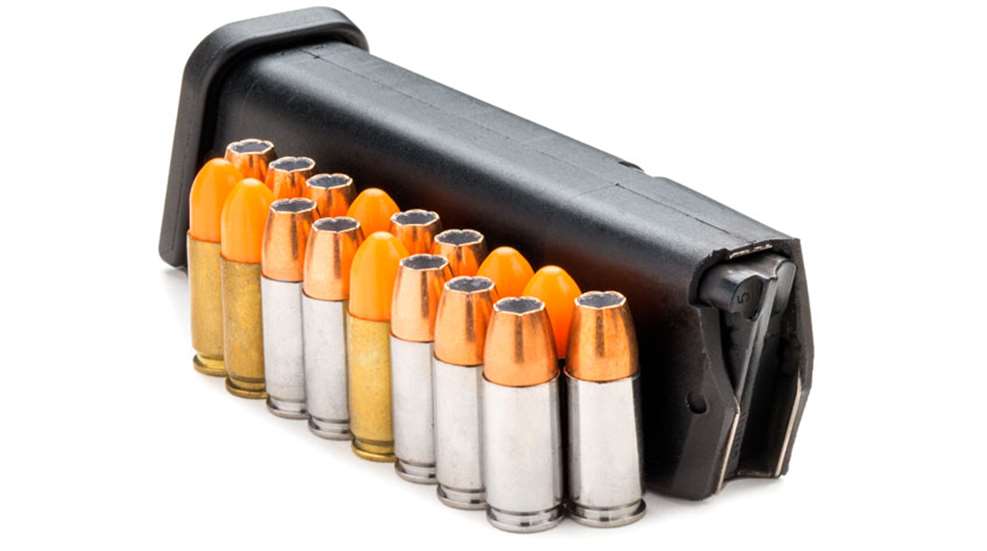 Drills where shooters mix live ammunition with dummy rounds will enhance skill in clearing malfunctions, as well as helping to diagnose any shooting-related flinching that might occur.
One of the most informative training drills I ever participated in took place many years ago at Glock's indoor range at its Smyrna, GA, headquarters. After preparing several magazines with a mixture of live and dummy rounds, the lights were turned off and—in the inky blackness—we were instructed to shoot through these magazines while correcting any stoppages or malfunctions by feel. On the surface this may sound simplistic, but I have to tell you, by the time I was finished I had developed the ability to feel what the gun was doing and instantly apply the fix necessary to keep it shooting.
While you may not have access to an indoor range where you can control the lighting, there are a number of ways to use dummy rounds to enhance your training. First, we should define what we mean by dummy rounds. Some are solid plastic and may be colored red, orange or yellow and others use brass or nickeled cartridge cases with colored-plastic "bullets." If you reload, it's a simple matter to make dummy rounds by assembling cartridge cases and bullets without primers and gunpowder. In all cases, however, it's important that the dummy rounds be readily identifiable as just that—dummy rounds—and not live ammunition.
You can use dummy rounds for dry practice (all aspects of firearm handling including dry-firing) by first ensuring that all live ammunition is removed from your dry-practice area and that your firearm is unloaded before using your dummy rounds for practicing loading, unloading and reloading. You can also keep dummy rounds in your pistol or revolver as you practice your trigger pull while pointed at a safe target (something that will stop a bullet if you make a mistake). You can combine this with practicing drawing from the holster, as well. I've also used dummy rounds in bolt-action rifles to practice running the bolt briskly from the shoulder after breaking a shot.
Mixing dummy rounds in with your practice ammunition at the range can be helpful in a couple of ways. First, if the gun goes click when you are expecting a bang you can easily see if you are anticipating the shot or jerking the trigger should the muzzle dip. The second way it can help is by teaching you to clear the firearm. The click indicates the gun has "malfunctioned" and you need to fix it. With a double-action revolver, the fix is as easy as pulling the trigger again but semi-auto pistols and carbines require tapping the magazine to make sure it is seated and racking the action to chamber a live round. Depending upon how the dummy rounds are arranged in a magazine the tap/rack clearance sometimes induces a double-feed malfunction requiring you to clear the chamber and reload the gun.
Dummy rounds are a useful tool and should be a part of your training and practice. Don't be a dummy; get some dummy rounds and get to practicing.